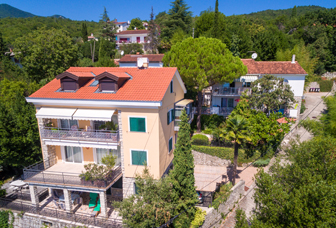 Hospitality is our family tradition since 1986. Since then, we've enjoyed sharing that genuine quality of life that lays in the Mediterranean way of living.
That's why during spring and autumn you can find us cultivating olive, mandarin, lemon trees, and lavender around our family houses in Ičići and Višnjan, Istria. Plus, fresh vegetables from our garden make a whole lot of difference in our meals. Every now and then, we get lost on a sailing adventure along the coast, in hidden bays and islands, and live life at its fullest.
We want to share with you our way of living and make you feel at home. We believe that pleasant vacation moments are one of the most important things for a memorable experience.
Since the year 1986, our family got enriched with every acquaintance, and bigger with every year. We hosted many kind people from all over the world, and many of them became, and still remain today, our dear friends.
From the moment you arrive until you leave, be free to contact us to help you with any assistance you may need during your stay in Ičići or Višnjan. We wish you a warm welcome and a pleasant stay!
Family Kišić